Oddities Flea Market NYC Dec 9th
In this unconventional market, the ultra stylish Ryan Cohn and Regina Rossi bring together top-of-the-line purveyors of the odd, offering an endless sea of strange and unusual objects.
A dreamland of natural history, curiosities, and dark romance, Oddities Flea Market is a delicious feast of art, jewelry, décor, and historical objects. We'll be serving wicked vintage glamour with an exclusive collection of beastly old jewels and custom-made snakes to lovingly coil around you from head to toe.
Many items are limited edition or one of a kind so get your VIP tickets for first dibs! 
don't miss out ~ click here for tickets!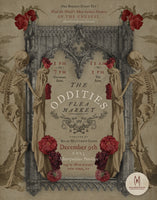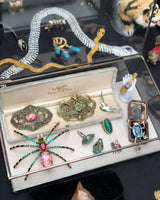 Shop F&F in Person 365
We invite you to browse a delicious buffet of vintage F&F prey in our permanent spot in Norwalk, CT.
Explore antique heaven at Fairfield County Antique & Design, a hot spot for designers, stylists, and decorators. Shop a juicy selection of our jewelry and handbags, in addition to 35 other beautifully curated booths.
Join our mailing list at the bottom of this page for announcements of upcoming trunk show and events in CT, NYC, and beyond!
Customer Testimonials
F&F is my new supplier for vintage finds!! Their treasures are magnificent! One of a kind pieces that are going to make my life so much more glamourous.

Thank you, Feather & Foxglove, for making all of my fashion dreams come true!

Rebecca (CA)
I opened my package this evening and haven't taken the ring off since. I LOVE it. It feels so empowering.

Tamisha (New Orleans)
I actually laughed out loud with joy when I unwrapped this beehive belt. It is spectacular. Thank you so much for this find and also for the exceptional customer service!

Jennifer (MN)
Love love love the necklace, and of course the bag! Both are perfect!

Lisa (NYC)
My parents just called. They are overjoyed with the gifts and they said the packaging was beautiful. My dad wants to save his paper and frame it. Thank you for putting so much love into them!

Laura (NYC)
Thank you so much - I received it and everything is gorgeous, the packaging, the card, even your handwriting.

Nachelene (NYC)
I LOVED both necklaces. Each one is so unique and fabulous. I cannot wait to wear them. You have exquisite taste...thank you

Yara (GA)
The necklace arrived safely yesterday and I am in love! I feel like a goddess wearing it!

Nic (NYC)
I am stunned - the purse is even more beautiful in person! I love it so much...I also loved your card and detailed care instructions. I feel prepared to take good care of my new friend.

I really admire the way you do business - it exemplifies how I believe beautiful things should be made, repaired, and shared.

Hope (NYC)